Monty Hall's Great Irish Escape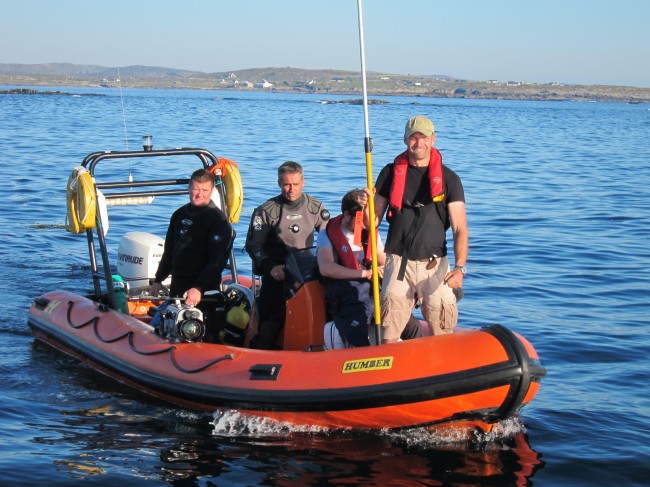 Production Details
Monty Halls has the sea in his blood and is never happier than when he's walking the beach with his dog Reuben or powering through the waves in his boat. In this series he's living on the west coast of Ireland, working part-time as an expert marine biologist for a whale and dolphin charity and exploring his local community the rest of the time.
On days when the sun is shimmering on a flat calm sea and dolphins are leaping off his bow, it's all he ever dreamed. On days when he's performing an autopsy on a beached whale in a Force 8 gale it's not quite such fun, but chances are he's way off the tourist trail in a random part of Ireland meeting the kind of characters that populate novels and best-selling travel books.
Monty's base is a fisherman's cottage on an island opposite the picturesque village of Roundstone in Connemara where he lays lobster pots off the rocky shoreline and grows his own spuds and veg in fish-boxes, the way the locals do.
He's been practicing his guitar and is a regular at sessions in the local bars. He's signed up to play rugby for the Connemara Veterans team, and he's training hard for the gig racing season. He's also helping the local boat builder to complete a traditional Hooker sailing boat, and is going to organise the first ever Roundstone Marine Wildlife Film and Photography festival.
Connemara – Gaelic translation "Community of the Sea" – is the real Ireland where things happen for the locals not the tourists and Monty is very keen to be part of a thriving community after the relative solitude of North Uist.
It's the life most of us dream of and for Monty there's the added bonus that he's doing the job he'd most like to do in all the world. He's part of a five-strong group of marine biologists and divers working for the Irish Whale and Dolphin Group who are on call 24 hours a day to drive anywhere in Ireland if an Orca whale or a pod of dolphins is threatening to strand on the shoreline. His job is to herd them back out to sea or if that fails, to keep them alive until more rescuers arrive to refloat them.
But Monty is interested in more than just marine wildlife. The 400 foot Cliffs of Moher on his doorstep are home to the largest colony of seabirds in Ireland with 30,000 puffins, guillemots and kittiwakes all fighting for nesting space. And island communities where Irish is still the main language loom just offshore.
Above all though, this series is Monty doing what he loves most, revelling in extraordinary places, sights and wildlife and having the time to get under the skin of Ireland and its cast of extraordinary characters.
---
Related Productions